Momiji – Indian Summer in Koyasan
After a long travel we are back in Koyasan. All trees are colored and it's quite cold – heating again with kerosene heaters and feeling cozy warm in feather beds and jackets. My heart is somehow still in India and looking forward to plans for the next year. I already signed up for a Yoga Therapy course for next year 🙂
The most happy about our return is probably this gang here: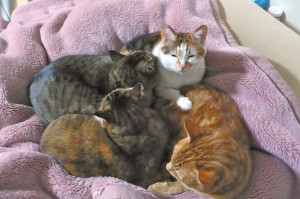 Yesterday I taught first yoga class after coming back and I was … confused, especially about words. Even such simple things like "back" or "shoulders" wouldn't come to my mind anymore.  On the end I was told, that it was good, uffff. I was so released! Although students are not so demanding by asana performance, they are by atmosphere – kimoji, that is what is important and komji ga ii – meaning the feeling was good – is the best compliment you can get. If people tell you, you are jousou, which means skilled – it was really the opposite!
Now some other things need to be done first ….