Today I'm at Mima michi-no-eki, a street station. A convenient place to stay over night. There are toilets, vending machines and a roof, which allows me to dry my tent 🙂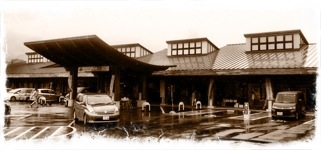 It's still early. I arrived at Ryukōji around 4:30pm, too late to proceed to Butsumokuji, although it's only 4km – temples are closing their offices at 5pm. At Ryukōji I was told, Mima is the best place to stay.
It's especially early for me, as I usually don't fall asleep before 12 or even later. During the day while walking, my head just perceives the environment. I love these moments when the sun kisses the trees in the forest and her beans are reflecting on the wet leaves on the ground. Winds and birds, often a creek are the only noises around. It's like perfect peace, harmony. When clouds are slowly moving through twilight, like fog, branches on the floor transform to snakes, moved by water, the cool wind gives the impression of other spheres being around. Trees tapping my hat or shoulder, indifferent noises from far away, crack, crack … a Tanuki crosses my way and tries to get away as quickly as possible from the big strange monster with a stick and a tingling bell on it.
In the evening, after I found a place to stay, made myself comfortable, ate dinner, then slowly slowly the head starts filling with thoughts. I'm not tired, my feet are, the rest is not. The present moment I'm happy to experience while walking off the roads are washed away, by thoughts on history, politics, personal experiences in the past. As if I could change a little piece of that what can't be changed. As I could be changed to whatever won't happen. Things I'd still like to do or what I could all do after coming back from this journey. The ground is too hard, but in fact the mind is too busy. As soon as I let go any practice the monkey goes crazy. Things are as they are, mosquitos won't disappear, also I wish to, cars and trucks will still pass by on the streets and eventually wash my face with water, just felt down from the sky. Today I read, Bob Marley said once, some people feel the rain, some people just get wet. That sounds to me like the sparkles of harmony compete with the craziness of the monkey, which brings me to the question, will I be able to ride the bull on the end?