On the second day I had to take it really slow. The last peace of way towards Jisoin were really hard. Steep downhill on a street is a burden especially for the knees. The price I had to pay the next day with knee pain, which slowed me down a lot until I decided to stop, realizing that I walked less than 15km. Nevertheless this was the right thing to do and the knee stopped hurting the next day.
That night the North Face tent proofed itself the first time. I stayed on the shore of Kinokawa river. Rain and thunderstorm was knocking and wrenching on the walls of the tent. Next morning the sun was smiling down from the sky and I moved on. In the evening I allowed myself the luxury of visiting an izakaya in Iwase, a place in the outskirts of Wakayama city. He was so kind to invite me stay in his house over night. I felt so blessed! Hot shower, a big futon and a solid breakfast – with beer instead of coffee! – the next morning.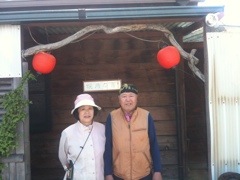 my hosts in front of their shop
The next day I could still walk for some time along the river but at one point I had no chance than to use the street until I reached the ferry port. In the evening I finally reached Shikoku. From Tokushima ferry port until Ryōzen-Ji it's still some 30km mostly along streets.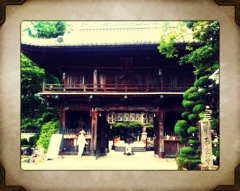 Ryōzen-Ji