So yesterday I didn't manage to post any news, just all the sudden I got busy. Whole Thursday morning we spent in a Vodaphone shop to get a sim card and a usb-stick. This beast still doesn't work smoothly with my linux distri on the eepc. I installed the betavine stuff, but still no joy …
After we thought it's a good idea to get lunch at the hotel and drop our stuff off there …. and since then we both got busy. The first participants of the conference at the Somaiya Institute arrived and all the sudden I was also in. So instead of doing sightseeing, I'm sitting in the auditorium and listening ….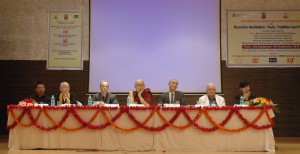 The conference is about Meditation: Texts, Tradition and Practice.
Tomorrow we will visit some caves outside of Mumbai. Curious.