Bye bye Nyutsu Hime
What for a morning. At 5 o'Clock Takeshi San came to pick us up. With a real mystery scenery Koyasan said good bye, the sun not yet up on the sky, from our house we can see the top of the Daito in mystical twilight and from here we started this morning our journey. While driving down the mountain Takeshi suggested to say good bye to Kami Sami at Amano. Takeshi frequently before checkin plays the flute at Amano jinja, so we went there and the Kamis from Koysan welcomed us with a beautiful morning atmosphere.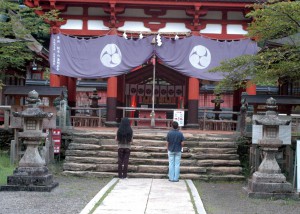 Yummi in the air
Kansai Airport was now only a short drive away and Takeshi dropped us off, as he had to hurry back home to bring little Mayana chan to school. Before check-in we got some hot cakey and toast with egg for breakfast. Check-in became a funny procedure as the girl had some trouble finding Germany – what was not so funny to her … on the end we got 2 seats on the emergency exit with extra free space for our big European feet 🙂
Ladies and Gentlemen, Boys and Girls: the first impression from our plane … looks a bit used, but the stuff from Malaysian Airlines is as friendly as the air-condition is cold and we are freezing. They topped it with the best vegetarian food I ever got during a flight! So now people are queuing for tandas, the bathroom, in front of our nose.
No, we don't scan cappuccino
A so called technical stop brought us to Starbucks in a brand new airport building in Kote Kinabalu. Somehow their coffee always tastes the same, you can lean on that, but the speed of serving varies. Well we thought we were late and we had to go once again through a security check, which was painless and friendly, only the cappuccino didn't got checked.
When we were seated again, the first purser came, to make sure we will get the right vegetarian meal on our next flight to Mumbai. These people really take their job – to make you feel pleasant on board – serious. The main players in air-traffic might want to take a workshop with them…..
People think we are crazy
instead of enjoying the coldness of the airondition in the plane as everybody else does, we are sitting here as if it's in the middle of winter, with jackets, blankets and a cap on the head in the plane heading to Mumbai.
After we savely arrived in Mumbai we went by prepaid taxi to our hotel. Traffic in India is breaking every concept of working traffic 😉 Everyone horns and mystically it works without any accident and we finally arrived in a nice and airconditioned hotel room.
So now I'm still trying to get the picts off the iPhone to my linux eeepc, you will see, after I managed 😉