Rishikesh
2 days ago we arrived in Rishikesh, one of the famous cities on the river Ganga. As Mahatma Gandhi is the father of the nation, so is this river the mother of India. There are a lot of myths about this river and every Indian likes to have a bottle of this sin cleaning water at his home, in case someone dies. The bus ride was either bumpy or curvy, but not at all dangerous as some reports imply. We took a private "luxurious" bus, which was really luxurious for Indian standards 😉 The bus reminded me to those buses, with which I was going for skiing in Germany when I was a young boy.
These last days before traveling back to Japan we are spending in a real nice place in Rishikesh, with hot-water shower working any time we wish, a nice bed, which doesn't smell to mold, new towels and even toilet-paper. What a luxury! The place is quite new, it's called Sanskriti and we heard it opened just a year ago. Our friends from Israel highly recommended this place to us. The food is excellent and ayurvedic, there is Yoga every morning here and people are very friendly. If you are not on a tight budget, give it a try, it's probably one of the best places around.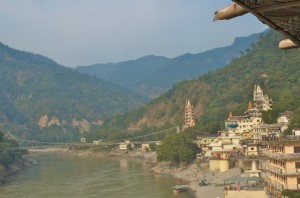 Rishikesh also has a different price niveau than Baghsu, a banana lassi for example is here 60 RS, in Baghsu it's 35 and better 😉
Today we also attended a Trika-Yoga class. This morning session was all about vajara-asana. Interesting introduction with a lot of useful information about this asana. One aspect of vajra asana is the connection of anahata, the heart chakra and ajna chakra the third eye, so connecting mind and heart and developing a diamond (vajra) body. Usually asanas are taught to prepare the body for extensive periods of stillness, this teacher is holding asanas pretty long, like in Yin Yoga, to make asana itself a meditation. Patanjali says, asana is a comfortable body position hold steady and a asana is mastered if it's hold for 3 hours and 49 minutes. If I'd try to do that with even the most simple asana, I'd probably need to see a doctor or even the hospital after 😉
Tonight I heard from the same guy the best "how to" for doing visualization. You grab a pingpong ball and hold it 20 cm on the height of ajna chakra, the third eye in front of you, then you study the thing until you have remembered it and then you try to visualize it with closed eyes until you can clearly see it in front of your eyes. Very simple and sounds pretty effective.